All too often, elected officials representing rural areas at all levels of government are either actively working against us or acting complacent by failing to stand with us. We seek to change this status quo by identifying, supporting, (and ultimately growing our own) candidates for office who share our core values, will act as champions on our issues, and commit to a relationship of co-governance with our members and with the broader multi-racial movement for justice, to move Minnesota forward.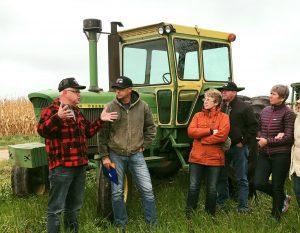 It is with this strategy in mind that we will focus our LSAF organizing work on electing leaders at various levels of government, ranging from Township Officer to Minnesota State Senate, and from Minnesota Governor to members of the US Congress, who share our values of stewardship, justice, democracy, community, and health and will champion our policy priorities alongside us once in office. However, we also know that for people-powered change to be long- lasting, our organizing work needs to go beyond just electing the next government official.
Through this lens we will work to build a culture around organizing to ensure our self-interests and values as a people-powered political force are recognized and championed year-round, not just around key election seasons. While winning elections produces the short-term results we want, LSAF wants to remain grounded in our main purpose of building the long-term base and infrastructure we need to elect homegrown champions in rural communities. To do this, we need to shift the landscape toward our values — "build the political soil" – over the long term.
Along the same lines, LSAF will "go slow to go far." Our organizing work will be deep, strategic, and authentic for the long-term. In some cases, it may take an election cycle or two, or maybe even more, to see our efforts come to fruition. We must remain focused, patient about what we don't know and what we are building, and excited about what's to come as we move forward. In reality, we're working to change the electoral map within the next five years – starting in November 2020.